A young couple separated on the walk out from Coire Lair. He walked along the river and his partner raised the alarm when he failed to appear.
13 team members were mobilised later that evening. Davy Ham and Chris waded down the length of the river and came across his body, in a pool, weighted down by his heavy rucksack. As night was falling and the terrain awkward, the casualty was tied to trees and rocks. It was 2 am when the team got back to Torridon.
11 team members returned early next morning. The only way to extricate him was by wading down the river until the banks eased and we then went upslope to the forestry track.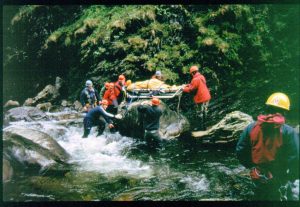 Seamus MacNally