In the picture is Phil Maclachlen, Neil, Ryan, Mike Dunlop and Donnie from Aultbay.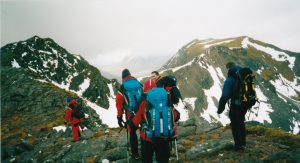 Gordon Vass
(With thanks to Martin Moran for allowing us to the account of this rescue from his book, "Higher Places")
CHAPTER 12: THE SAVING OF ANDY
A few climbs develop the status as classics of their region. In Torridon the one big ice route to which every visiting climber aspires is the Poachers Fall of the northern face of Liathach. The tiered Torridonian cliffs have a unique geological disposition for ice formation. The summit cap of Liathach is made of permeable quartzite, but at 900 metres this meets the banded cliffs of sandstone. All the drainage that filters through the quartz is forced outwards to form spring-lines over the sandstone cliffs. With progressive freezing during winter these form into trails of ice up to 150 metres high. Poachers Fall is the central spring-line in Coire Dubh Mor, forming a compelling plunge of silvery ice at the focal point of an amphitheatre of cliffs, and is a benchmark of grade V climbing.
The climb was first ascended by Andy Nisbet and Richard McHardy in 1978. Andy was then twenty five years old, at the start of his illustrious climbing career, and beginning to venture out of Aberdonian homelands in search of new routes. Richard McHardy is one of climbing's most colourful characters, operating at the cutting edge of extreme climbing as part of the Alpha group in Manchester in the early 1970's. The story goes that Richard had agreed to do the climb with another partner but presented with Andy's availability at short notice broke his commitment; hence the guilt-tinged name. A winter classic has its attendant risks and challenges. The location is inspiringly remote, the climbing is sustained for four pitches at or near-vertical and the exit slopes are exposed and prone to avalanche. There have been serious accidents here, but Poachers Fall held a certain cachet for the more ambitious mountain guides.
The weather of February 2003 was impeccable. An anti-cyclone dominated, giving alpine warmth on southern slopes, but maintaining a hard frost in the snowy northern corries. Epics and accidents seemed far away. On the 18th only one of my instructors had gone high, the irrepressible Andy Nisbet. Andy had been one of my regular instructors for several years. As a living legend of winter climbing he was an immense asset to Moran Mountaineering. Andy didn't just play the part; he looked the part as well, with magnificent ginger beard, clothing that is best described as ancient-weathered and an iconic limp from a degenerate hip. He had led our clients up dozens of exploratory climbs in esoteric clefts all over Wester Ross, giving them the fleeting fame of appearances in climbing magazines and guidebooks.
While Andy went on to the north side of Liathach with two clients, the rest of us were happy to conduct a lazy coaching session on a sunny crag in Torridon. The phone rang just after I got back and the ominous words: "This is Dingwall Police…." changed my mellow mood. "There's been an accident on Liathach". It could only be Andy…
Ice conditions seemed good; there had been a thaw but now it was freezing again. Eddie and Julie were two of Martin's most experienced clients. The day before, on the 17th, we'd been sitting on the Beinn Bhan plateau in the early afternoon, enjoying the sun after finishing Mad Hatter's Gully. An easy day on the 18th was tempting. "But we've never sat around before on a Moran course", they said. "How about Poachers Fall tomorrow?" I asked. "We're up for that!" It was the route they'd come for.
Poachers Fall was complete. It's never easy but I'd done it many times before, and it was four days short of the 25th anniversary of the first ascent with Richard McHardy. The first two pitches went well and now I was on the third, an ice filled groove. The ice was still wet after the thaw, but this gave first-time placements and I was running up it, with the aim to be back in time for tea at 5 o'clock. I put an ice-screw deep in the ice after 20 metres and continued to where the groove ended. Here you have to move out right over a bulge, and I placed another ice-screw here. That one wasn't so good, but never mind, it was easy today. Suddenly the ice became fresh and brittle, and my placement wasn't in far….End of memory!
I was hanging on the rope just above the clients. I had gone about 80 feet. "Lower me back down to the stance. Give me a couple of minutes and I'll go up again."
"No you won't," said Julie, "you've broken your leg".
There was no pain whatsoever and I was standing on the good leg. "Are you sure?"
"Yes." Apparently, I'd been unconscious for a couple of minutes with my leg tucked over my shoulder. It was the femur.
"You'd better abseil off and go for help; the helicopter will just pick me up". The rucksacks with the mobile phone were down in the corrie. They had climbed Grade V unguided, so were more than competent to get off without me.
So I hung on the belay and waited; maybe four hours would do it…..
Eddie and Julie took three hours to abseil off and walk out to a point where there was a mobile signal. It was dusk by the time Torridon rescue team gathered. Although I am a team member I would describe myself as a slightly begrudging mountain rescuer. With a full-time job on the hill it is hard to work up enthusiasm for late-night call-outs, and I can't deny a judgmental frustration towards those who get into trouble through blatant incompetence, all of which only raises my admiration of the other team members who give their all to the service without condition or complaint. This rescue was different, not just because it was Andy, but because the stakes were so high. Bleeding from a femoral fracture can quickly lead to fatal shock.
Rapid helicopter transit to the top of the route was vital. Maddening delays followed. The RAF helicopter was engaged on another rescue, and then we heard it coming, only to be told that it was low on fuel and needed a detour to fill up at Broadford. Then a decision was made to go back to Inverness and collect the RAF Mountain Rescue team who were driving over from Kinloss. We could have walked in quicker!
As the only team member who knew the route I was given a pivotal role. The helicopter couldn't risk a winch on a big vertical cliff. Instead, a manual lower and crag-snatch were planned.
"How long a rope do you want, Martin?" said team leader Neil. "We've got 160 or 180 metres."
I knew the route involved 150 metres of climbing so played safe. "I'll take the 180."
At 9.00 pm the helicopter reappeared, only for the pilot to decide that it was too windy to make a drop on the summit ridge. Well, at least we could get in to the base of the route; but no! Despite the clear night the cautious pilot put us down on the moors at 400 metres. To get to Andy we'd need to thrash uphill for an hour into Coire Dubh Mor, climb a 300 metres grade I gully and traverse across 40° névé slopes to the exit of the route.
Not knowing if he was alive or dead, we surmounted the corrie lip, and yelled at the icefalls, which glittered in the moonlight. There were a few seconds of fearful silence before we heard a hoarse cry.
"I'm really struggling….I can't hold on much longer…. you'll need to be quick," this from a man who had out-lasted most of Scotland's winter desperadoes in 25 years of pioneering climbs. He had survived but was clearly in severe stress.
There were some twenty rescuers, including a fit but youthful RAF contingent. In truth we were something of a rabble. Hurried preparations and hardware requisitions were now put to the test. "Shit; I've forgotten my crampons; I'll have to go back." Team doctor Gavin had been assigned to join me on the lower. Paramedic Mike was quickly commandeered to take his place, and we pushed on with unseemly haste.
In the gully I tied six RAF boys on to my rope, far in excess of a safe guiding ratio. The "seven-on-a-rope" scenario replicated Whymper's chosen roping system on the ill-fated first ascent of the Matterhorn and made an uncomfortable memory. The cream of the RAF was now dependent on my guiding ability. Was mass hysteria taking hold? With a silent prayer for the crampon skills of my young cohort I led them up bullet-hard snow to the top of Way Up gully. The traverse over to the route exit was especially scary. Strung out horizontally across the slope there was little chance of holding a slip. A new worry materialised. Which of several outcrops of rocks marked the exit gully from Poachers? All this is simple with the benefit of daylight. The neighbouring route, Salmon Leap, has similar topography. I made my guess and anchors were placed ready for a lower of 150 metres.
At the back of 1.00 am Mike and I went down together – the 180 metre 11 mm static as the main line and dynamic 9 mm ropes tied together as back-up. Andy's shouts had long-since subsided. Were we too late? Fifty metres down we swung over the void and front-pointed down the first vertical pillar of ice, but was it Poachers? A despairing cry echoed from the depths. "You're in the wrong gully."
Though relieved that Andy was still alive, we were now gently sliding down Salmon Leap a full ten metres left of Poachers. I was carrying a modest rack of gear. By placing ice screw runners and clipping the ropes to them we edged nearer to Poachers. I aid-climbed horizontally across the last five metres to reach Andy, who was standing on one leg on a ledge the size of a laptop, a pallid face shrunken behind his beard and jacket hood. There is no word other than heroic to describe the torment of standing for twelve hours at -5°C with a broken femur. Perhaps the cold had stemmed the bleeding and saved him.
Mike rummaged in his sack. "Where's the morphine? Oh shit…"
A crucial changeover of kit when Gavin dropped out had been forgotten in our rush. The medical bag was now sitting in Gavin's sack down in the corrie. In the ensuing silence I unscrewed my thermos flask. "I've got some paracetamol and herbal tea here for you Andy."
Being a gentleman he expressed thanks for these small mercies. Fortunately Mike did have an Entonox cylinder, which could give real relief, and he rigged this up while I pondered the next moves. Our situation was decidedly precarious.
We were now ten metres off the natural line of the lower. If we simply detached from Andy's anchors we would make a massive pendule into the ice pillars of Salmon Leap and probably end up with three broken legs instead of one! Somehow, we had to minimise the swing. Mike and I strapped Andy horizontally in front of us and braced our feet on the ice. We were now a threesome, irrevocably linked by a web of slings. I placed my last two ice screws and we aid-climbed from one to the other, gaining a couple of metres. Then I made a daisy-chain with all our spare bits of tape down to my last prusik cord. We clipped one end to the last ice screw and I fed the chain slowly through my harnesses until the weight of three bodies was unbearable. We were still five metres off-line. There was no turning back. I fed out the last cord until I was clinging to it at arms-length. It was our Geronimo moment.
Gripping Andy tight into our stomachs and pedalling our feet we swooped across an ice chimney until a jarring shock on the static rope brought us to an instant stop. Andy was oblivious to the drama. Having pronounced ourselves unscathed we radioed for the lower to restart. We could see the gathered headlights of the Torridon boys down on the snow-slope at the base of the route, where they had prepared a stretcher. The lower continued. With twenty metres to go my nerves jangled again. "How much rope?" I radioed.
"About twenty metres," came the reply.
The margins looked slim, but, lacking any alternative, the lower continued and we met the stretcher team with just three metres of rope left. Andy was transferred to the stretcher, strapped in, and lowered a further 120 metres down the snow slopes to a levelling.
This time the helicopter dared to land. Andy was packaged and lifted off to Raigmore Hospital at 4.00 am. Only with completion of the job did we feel the accumulated stress of the previous ten hours. I wandered back to the road and a peaceful dawn, pondering the mistakes made but immensely grateful that we'd got the vital judgements right, despite all the distractions of an unwieldy rescue effort. With luck we'd get Andy back in good shape come a few months…
The surgeon showed me the X-ray with seven breaks in my femur, one spiral, one horizontal and some smaller pieces. "Don't worry," he said, "femurs heal well and you'll be back on the hill; but you're lucky the breaks are high up, where they are less likely to cause what would be fatal bleeding."
After 10 days he let me out with a femoral nail in place and instructions not to weight the leg. Back home and keen to regain arm-strength I tried a couple of pull-ups on a ladder into my attic, not realising that the hanging weight of my leg alone would cause the fractures to separate.
Back in the consulting room, the surgeon asked me if it was OK if they put me in traction for "a short while". This seemed a reasonable proposal. Nine weeks later they untied me from the bed. Another four months later he told me I could start putting gentle weight on the leg again. I decided it was better if didn't tell him I'd climbed a Corbett the previous day.
I had made some mistakes in my recovery but I still say that had I been over-cautious my leg might have healed safely but movement would have been so restricted as to end my mountaineering career. As to the accident I had learnt a few new lessons. Climbing ice routes quickly without placing too much gear is fun and speed can add to safety, but there are definite limits. Placing runners, even when finding the climbing easy, is wise. The hanger of one of my ice-screws broke in the fall. It was a Russian-made model, popular in its day, but clearly sub-standard. The freshly-formed water ice must have failed when both my axes were in the same fragile plate. The change in ice quality was so sudden that I missed the risk. 
All accidents are the result of misjudgements, most usually a series of misjudgements which accumulate to critical mass. Attention to detail is the key to safety.
Walking back to Glen Torridon, emotionally shaken by the rescue, I wished my life's trajectory to stray as far as possible from Poachers Fall in the coming weeks. Alas; a mountain guide has no choice in such matters. My next client, Mark Dixon, arrived with an enthusiasm for one route and one route only – Poachers Fall. So five days after the event I was back on the ice on the sharp end of the rope, reliving every minute of Andy's ordeal right up to the fatal swing of the axes into the brittle bulge at the top of the fall. Sadly, all of my abandoned kit had been snaffled by other climbers who doubtless must have wondered why such riches were left for their taking.
Someone with a mischievous sense of humour must have thought our efforts warranted wider recognition, for a few months later the Torridon team was nominated for the 2003 Daily Express "Life Savers" award. We duly assembled for publicity photos inclusive of Andy and his crutches. The prize was an invitation to a reception with the Prime Minister at 10 Downing Street, but, perhaps to our relief, we missed out on the ultimate award.
On 13 December, 2000, a Cessna 152 with 2 business men on board, disappeared. It had taken off from Inverness Airport bound for Benbecula. In the following days a massive land and air search operation failed to find any sign of the missing aircraft. Torridon MRT had searched from 14 December. More than 2 months later the first clue was found. Arjan Hendriks writes,
"Around the 20th February 2001 the life raft was found by Martin Moran in the gully below the crash site on Mullach an Rathain". I believe Martin mentioned it to Davie "Ham" (Mackenzie), asking if we were still searching for the plane. Neil (Hinchliff) told me about the find. The next day, from the road, I spotted the wing standing up. Now we had a rough idea of where it could be and I told Neil to do a call out. On the 25th February myself, Neil, Chris, Davie Ham and 2 RAF Kinloss got dropped off at the site and we recovered the 2 airmen. We had been airlifted by Stornoway Coastguard. Chris had his epic, sliding away towards the Northern edge, propelled by the downdraft".
The Team were subsequently involved in clearing the wreckage. Given that the crash was on the Torridon Glen side of a popular hill it seems surprising that it took so long for it be found but its location put it out of sight from the main ridge and, apart from a wing tip, out of sight from the road.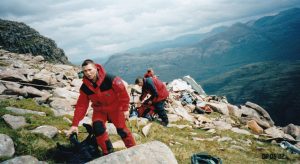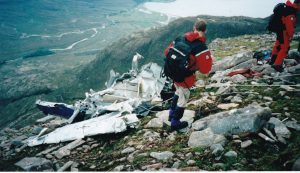 When the RAF Lancaster crashed at the back of Beinn Eighe, in 1951, there was also a delay in finding the wreckage. Apparently a few days after the crash a boy in Kinlochewe came forward to say he had seen or heard something on the night of the crash. His evidence focussed the search in the right area.
The pilot of the Cessna was Bob MacLean, from Dingwall. On 25 June, 2011, some of the Team accompanied Bob's son, John, and daughter, Lindsey, to the area on Mullach an Rathain where their father had crashed.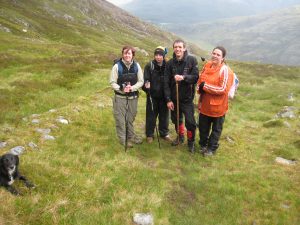 We are most grateful to the MacLean family for the generous donation they gave to the Team.