On 13 December, 2000, a Cessna 152 with 2 business men on board, disappeared. It had taken off from Inverness Airport bound for Benbecula. In the following days a massive land and air search operation failed to find any sign of the missing aircraft. Torridon MRT had searched from 14 December. More than 2 months later the first clue was found. Arjan Hendriks writes,
"Around the 20th February 2001 the life raft was found by Martin Moran in the gully below the crash site on Mullach an Rathain". I believe Martin mentioned it to Davie "Ham" (Mackenzie), asking if we were still searching for the plane. Neil (Hinchliff) told me about the find. The next day, from the road, I spotted the wing standing up. Now we had a rough idea of where it could be and I told Neil to do a call out. On the 25th February myself, Neil, Chris, Davie Ham and 2 RAF Kinloss got dropped off at the site and we recovered the 2 airmen. We had been airlifted by Stornoway Coastguard. Chris had his epic, sliding away towards the Northern edge, propelled by the downdraft".
The Team were subsequently involved in clearing the wreckage. Given that the crash was on the Torridon Glen side of a popular hill it seems surprising that it took so long for it be found but its location put it out of sight from the main ridge and, apart from a wing tip, out of sight from the road.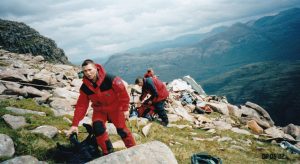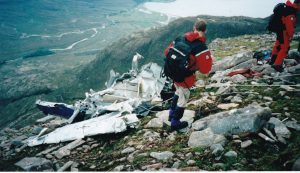 When the RAF Lancaster crashed at the back of Beinn Eighe, in 1951, there was also a delay in finding the wreckage. Apparently a few days after the crash a boy in Kinlochewe came forward to say he had seen or heard something on the night of the crash. His evidence focussed the search in the right area.
The pilot of the Cessna was Bob MacLean, from Dingwall. On 25 June, 2011, some of the Team accompanied Bob's son, John, and daughter, Lindsey, to the area on Mullach an Rathain where their father had crashed.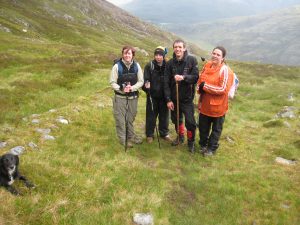 We are most grateful to the MacLean family for the generous donation they gave to the Team.