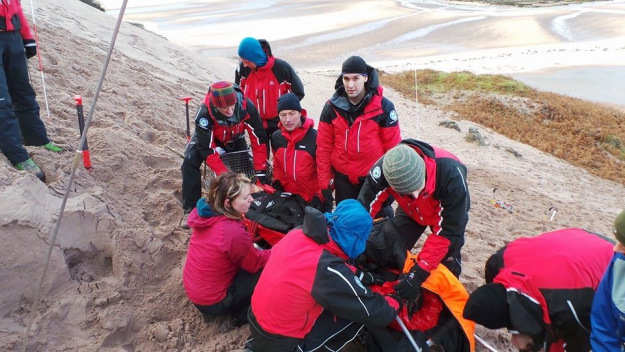 In lieu of a decent accumulation of snow the Torridon & Kinlochewe Mountain Rescue Team we were somewhat ahead of the game with Avalanche rescue training. We improvised by using the huge naturally formed sand dune at Sand, North of Applecross in Wester Ross.  There had been some concerns by Gerry and myself as to the suitability of sand as opposed to snow as we set out the day prior, somewhat furtively lest the Ministry of Defence lookout across the headland spotted us carrying a full life-sized and lifelike dummy up the dunes!
However on the day saw a good turn out with well over half the team despite the extra distance.  Indeed the team looked very festive in their new red and silver jackets from Keela (many thanks on behalf of the team) and on looking tourists may be forgiven for thinking it was the inaugural "Applecross Santa dash"
The training was taken very seriously as usual and some were heard to comment how realistic it was with the sand been blown into our faces and the line of probes with snow shovels at the ready.
 The team quickly found Avalanche transceivers that had been previously buried. This shows the importance of team members to be wearing one in the event that it could be a team member that gets avalanched! It took sometime to find the buried dummy, which was not very deep and did not have an Avalanche transceiver attached.  This in turn shows the huge disadvantage in not wearing a transceiver.
Once the dummy was located the team put into practice their recently renewed first aid training.  Clearing the airway was the priority, then safely rolling the "patient" onto the stretcher with the vacmat before evacuation to a safe area.
We finished by reviewing some basic rigging making use of the sea cliff at the summit of the dunes before retiring to Gerry's house for a most welcome and warming festive curry.
Many thanks to Jim for helping organise the day and in particular to Gerry for extending the legendary Applecross hospitality to those who had travelled from Torridon, Gairloch and as far as Inverness.
Wishing all the team and its supporters a Merry Christmas.
Gregor Watson