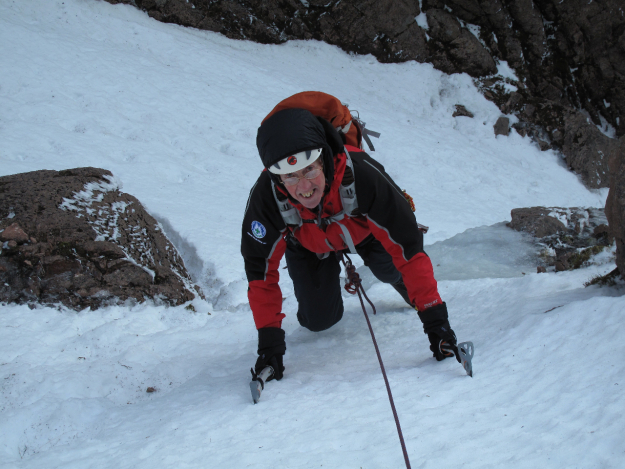 Team training in February was, for me, a home fixture, on Meall Gorm, Applecross. Thirteen team members attended. Conditions were not ideal – a not unusual Scottish winter mountaineering cocktail of drizzle and soft wet snow. How do you keep your hands functioning in such conditions when your gloves are soaked?. The view from the team's winter climbing buffs was that the only answer is to carry multiple pairs of gloves. Paradoxically, colder, sub-zero temperatures, make keeping warm much easier.
Most of the session involved working in small groups on 3 different belay building techniques under the tutelage of head teacher, Mr Sutherland, deputy head, Mr Johnston and head boy Duncan MacLennan. I started in Duncan's class looking at waist belays from a bucket seat with a buried ice axe as back up. Learning points: make the bucket deep, don't weaken it by standing on the snow below it, the sling should be clove hitched round the ice axe at its balance point, after taking up your seated position ensure there is no slack in the system. A second vertical axe could be used for reinforcement in front of the horizontal axe.
So far so good – on to Mr Johnston who was teaching on snow bollards. His first group of pupils had built a typical bollard of about 5 foot diameter which failed under load, reflecting the poor snow conditions. We therefore built a massive bollard of about 10 foot diameter which proved resistant to our combined efforts to destroy it. Bollards can be reinforced with axes, rucksacks etc but this removes their greatest asset – the fact that they can be abseiled off without leaving any kit behind. Given our success with the snow bollard, Mr Johnston rewarded us with further instruction on "stomper" belays. Learning points: karabiner can be round the shaft of the axe rather than clipped in to the hole in the axe head, the rope should run over one shoulder to the climber so that any force is downward and, most importantly, in soft snow, the buried axe can pull through the snow, as we found. Beware!
Finally, on to our head teacher, Mr Sutherland. Was he in a good mood? He did seem to be shouting a lot. He was on his special topic as a onetime Maths teacher – "dead men". The key to success is to get your geometry right. The angle between plate and snow must be 40 degrees. How do you measure 40 degrees without a protractor? Stick the shaft of your axe in at 90 degrees to the slope – use the plate in your hand to bisect the angle between the axe and the slope above – the plate is now at 45 degrees to the slope (you knew that, of course) – now simply lower it a "wee bit" and you have it at the magic 40 degrees – stick it in slightly at that angle, then using it as a visual guide, use your axe to build a slot at the same angle. Once you've got the plate in the slot put the shaft of your axe through the eye of the leash and tug from below to bed the plate in. My first effort failed at this point. Mr Sutherland was very understanding – he thought the snow was probably not deep enough. Having moved laterally, my plate, and I, both passed the test.
By now the wind was up and it was getting pretty unpleasant. I hoped that school might be let out early but Mr S is a hard man. We were going to do a multi pitch stretcher lower without a stretcher. Lucky me was chosen to simulate a stretcher, hitched to "Dark Horse", John Moffat. After, a chilling delay whilst multiple anchors were set up in 2 locations, the "stretcher" was lowered down 2 pitches – a kind of test of trust in your classmates. John and I certainly felt very close! But all went seamlessly, including the tricky transition between belay systems.
Top tip from the day: folk who persist in remarking that, "it wasn't like this in Norway" could become rather unpopular.
Gerry McPartlin