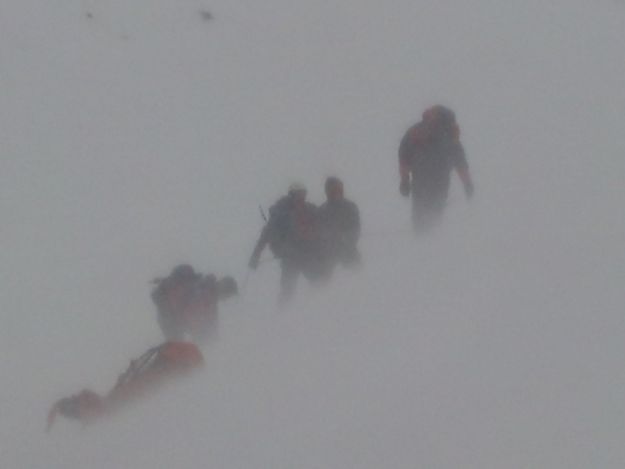 To be truthful, writing this, I've encountered again the same 'Cold Chill', now, as when I attended my first Sunday all day training session, nearly one year ago. To my emotional rescue, then, was the comfort that there was at least another six, 'Fresh Meat' candidates brave enough to enlist & run the Torridon Mountain Rescue training gauntlet.
The day, the same as all training days since was extremely well organised & structured by all team members involved & for many of us 'Newbies', probably shattered or re-in forced any preconceptions that we had. For me, I had some years of hill walking experience & a couple of years involved with mountaineering, so naively & arrogantly, I thought that I would have something to bring to the team!
To elaborate, in the much larger world of the MRT, attention to detail is essential. My whole skill set is now more comprehensive & my techniques continually being honed to a higher level. I have found the whole experience so far, extremely 'humbling'. The dedication & professionalism of the team members shines through the patience of teaching & the extensive conglomerate of skills of which have to be learned. The sense of team spirit & achievement is infectious & has installed in me a keen motivation to re-attend training sessions and to better myself in something that I really enjoy.
As a recent member to the call-out list, you become immediately aware of your responsibility. All that training isn't for nothing! The phone can ring at any time! Your new kit should always be maintained & ready for use. Keep your phone on you at all times & charged & hopefully you will arrive on time & at the correct rendezvous point of your call–out.
As a ' Fresh Meat, Newbie' I also have the aid of my own personal Mentor. "Can you make a silk purse out of a Pigs Ear ? ", I might ask (ha!ha!), I'm sure he'll have an answer for that in his black book!
The TMRT is jam packed full of dedicated professional individuals who give their time for free & I am proud to be part of it.
Rod Winton